Description
Price/Enquire
Description
New Ideas. A new level of comfort.
Variotherm's VarioComp compact floor heating system will give you new ideas. It is not only ideal for drywall construction, but also for gentle renovation of old buildings and for floors where there is no room for screed.
VarioComp floor heating is extremely thin, with a incredible panel thickness of only 20 mm! In spite of its slim line design, it is a rapid action, powerful floor heating system which provides a lot of comfort.
7 reasons to choose Variocomp Floor Heating Systems
Superslim! Panel thickness just 20 mm!
Energy-saving low temperature system.
Low weight! Ideal for drywall construction and gentle renovation of old buildings.
Optimal heat transfer: VarioModule pipes are fully embedded in the compact filling compound.
Floor heating system whith extremely rapid reactions. Excellent controllabilty.
Fast and simple assembly.
10-year warranty.
MODULAR. FLOOR HEATING. 20 mm.
Technical. Properties. Components.
The low profile floor heating VarioComp is an efficient complete system in which the VarioProFile pipe is embedded in the filling compound. This guarantees optimal heat retention and transfer. This, combined with the better regulation options, means that lower floor temperatures than in other floor heating systems are possible.
Climate friendly. Environmentally friendly.
All VarioComp panels are made from gypsum fibre boards that have been tested for their biological properties. The tested complete system has been awarded a range of quality and environmental certificates.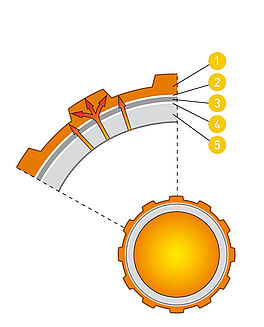 VARIOPROFILE PIPE 11,6 x 1,5 LASER
1   Raised temperature resistance PE-RT with profiled surface
2   Adhesive layer
3   Homogeneous laser-welded solid aluminium pipe
4   Adhesive layer
5   Raised temperature resistance polyethylene (PE-RT)
Advantages
Optimised heat transfer through up to 10 % larger surface
10 year guarantee with certificate
High pressure and temperature resistance (10 bars, +95 °C)
Flexible, easy to bend, extremely good hydrostatic stability
100 % oxygen diffusion-tight
VARIOCOMP
1.  Substructure
2.  VaroComp panel 600 x 1000 mm
3.  VarioProFile pipe 11.6 x 1.5 Laser
4.  VaroComp filling compound
5.  Floor covering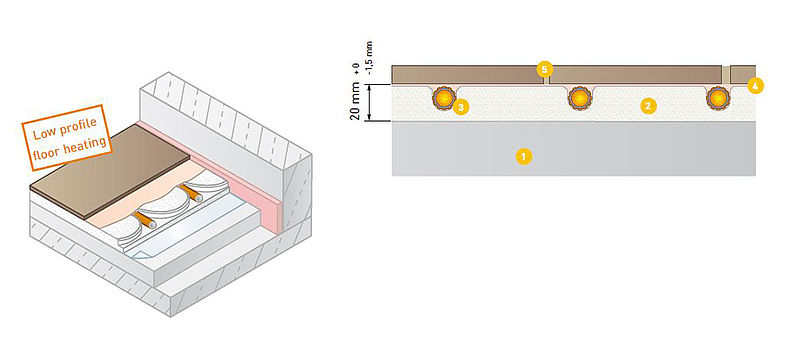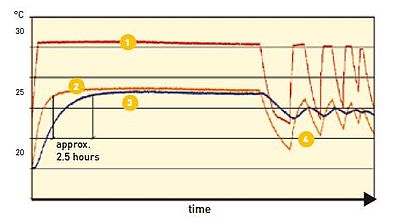 Quick reaction time
A comparative test shows that the VarioComp surface heats up 2.5 hours faster than the screed floor system. And cools down faster avoiding overheated rooms.
Comparative measurement
1 Heating water temperature
2 Modular Floor heating system VarioComp surface temperature
3 Screed floor heating system surface temperature
4 Short reaction time when the heating system is switched on and off
SIMPLY. QUICKLY. INSTALLED.
The specially milled routings in the VarioComp panel (18 mm) guarantee fast laying on all even subsurfaces (concrete, wood structures or other solid surfaces). The entire surface board is routed, which guarantees fast and efficient pipe laying over the complete area.