Description
Price/Enquire
Description
COOL APARTMENT. WARM FLOOR.
Cosy living areas are cool. How does that work? It's simple! Variotherm floor heating systems allow you to combine hip design with cosy warmth. Stone, tile, laminated or parquet floors become warm surfaces – you will love to walk around barefoot! And speaking of bare: To make sure your wallet isn't bare, all Variotherm floor heating systems are energy-saving low temperature systems.
7 GOOD REASONS FOR VARIOTHERM FLOOR HEATING SYSTEMS
6 individual complete systems from one source
Energy-saving low temperature systems
Ideal for combination with heat pumps, solar and biomass systems
Optimised heat transfer and laying accuracy:
The VarioProFile pipe has 15 % more surface area than other pipes
Even floor temperature thanks to accurate laying systems
Fast and simple installation
10-year warranty
Technical properties. Models. Types.
Wherever screed is used, the five systems, VarioRast, VarioFix, VarioClip, VarioRoll or VarioNap, provide the perfect solution for all building situations. The extremely robust VarioSolid sets new benchmarks for surfaces in industrial buildings.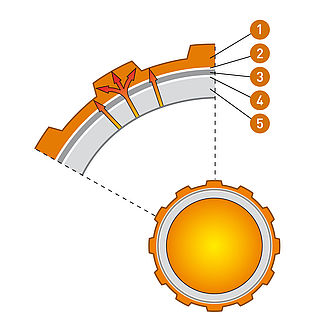 VARIOPROFILE-PIPE 16 x 2 LASER
Raised temperature resistance polyethylene PE-RT with profiled surface structure
Adhesive layer
Homogeneous laser-welded solid aluminium pipe
Adhesive layer
Raised temperature resistance polyethylene (PE-RT)
Advantages
Optimised heat transfer through up to 15 % larger surface
Unique innovation
10 year guarantee with certificate
High pressure and temperature resistance (10 bars, +95 °C)
Flexible, easy to bend, extremely good hydrostatic stability
100 % oxygen diffusion-tight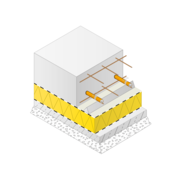 VARIOSOLID (Industrial UFH)
Concrete panel and reinforcing bar grid (provided by the customer)
Fastening with binding wire
VarioModule pipe 20 x 2 mm Laser
Spacer, separating layer and prepared thermal insulation (provided by the customer)
SIMPLY. QUICKLY. INSTALLED.
Depending on the model and construction requirements, the VarioProFile pipe can be precisely laid in different ways, while maintaining its form: clips, VarioBars, stapler pins, panels with grooves … Thought has been given to every possible subsurface and every attachment method. All working steps have been tried and tested in practice and can be carried out by a single installer.